Celltec load cell UN1 is a tension and compression S-Type load cell and has many applications in tension weighing measurements.
The producer adjusts full scale output of UN1. It makes the load cells to in a way which they are not much different to each other. In multi load cell weighing systems, calibration of UN1 is easily don through the junction box.
The material of this load cell is nickel plated alloy steel.
Phyisical Form of Celltec UN1: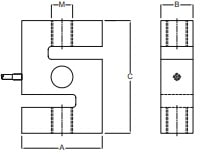 Wiring of Celltec UN1: