Stainless Steel Load Cell
50kg, 100kg, 150kg, 200kg, 250kg
Hybrid Scales, Hooper Weighing, Materials Testing, Crane Scale, Hostiles Environment.
How to load Celltec USR1:

Applications of Celltec USR1:
Hanging weighing like crane weighbridges and pendent scales.
Variety of batching and mixers for asphalt factories, concrete factories, food industry
Also it has applications in pharmacology industry and petrochemical industry.
Measuring pressure force or tension like input force testing device.
Variety of ceiling weighing for example elevators and lifters weighing.
Physical form of Celltec USR1: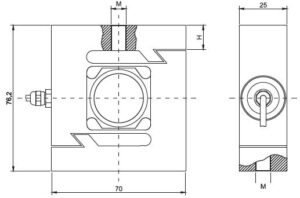 Wiring of Celltec USR1: