HBM load cell RSCC is a S-Type load cell in C3 class. RSCC is an ideal load cell to use in static and pseudo-static weighing. HBM RSCC has also application in measuring the density of hanging tanks.
RSCC load cell is available in 7 classes of capacities from 50 Kg to 5 Tons. With minimum verification interval of 12000 and accuracy class of c3 and HBM advanced measuring, RSCC presents accurate results.
The material of this load cell is stainless steel. RSCC has IP68 and ATEX which makes it usable in industrial and explosive environments.
Installation of HBM RSCC:
There are many ways to install this load cell. This is the most popular way to install HBM RSCC:

How to load HBM RSCC:

Applications of HBM RSCC:
Hanging weighing like crane weighbridges and pendent scales.
Variety of batching and mixers for asphalt factories, concrete factories, food industry
Also it has applications in pharmacology industry and petrochemical industry.
Measuring pressure force or tension like input force testing device.
Variety of ceiling weighing for example elevators and lifters weighing.
Physical form of HBM RSCC: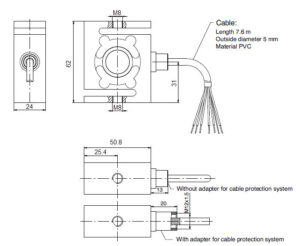 Wiring of HBM RSCC:

HBM RSCC standards: