Revere load cell CSP-M is one of the best high capacity load cells From 10 Tons to 200 Tons. BM14A has application in heavy scales. The design of CSP-M is special in a way which includes 4 columns and 16 strain gauges. Revere CSP-M has scored good results in experiments specially in indefatigability tests. The quality of CSP-M is great.
All of its meeting points are laser welding. The 4 column design of this load cell is the reason of its resistance under unusual uploads. It also has higher accuracy and sensibility against eccentric force. Maybe its only weakness is its partly expensive price.
The producer adjusts full scale output of CSP-M. It makes the load cells to in a way which they are not  much different to each other. In multi load cell weighing systems, calibration of CSP-M is easily done through the junction box.
The material  of this load cell is stainless steel. Revere CSP-M has IP68 which makes it usable under water. It also has ATEX which makes it usable in explosive environments.
Installation of Revere CSP-M:
There are many ways to install this load cell. This is the most popular way to install Revere CSP-M: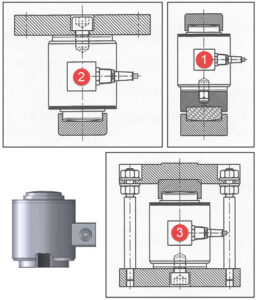 How to load Revere CSP-M:

Applications of Revere CSP-M:
Variety of heavy weighbridges like trailer scales, trunk scales and train scales.
Variety of weighing silos and tanks.
Measuring pressure force or tension like input force testing device.
Physical form of CSP-M: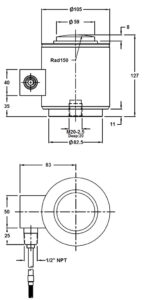 Wiring of Revere CSP-M: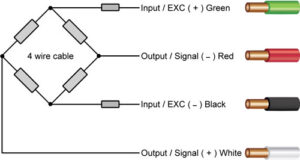 Revere CSP-M standards: