Introduction of Vishay-Revere VT-300:
Vishay-Revere VT-300 is a weight indicator. VT-300 has high quality and accurate function. This indicator also uses a new technology for A/D named Sigma/Delta which has high speed and uses low voltage. VT-300 ha 16 characters LCD with backlight and height of 14.5 Mm. It also has 27 automatic keys on its keyboard for data entry and to calibrate. Calibration of this indicator is with load cells output results or uploading weight.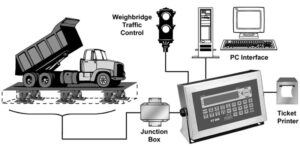 Technical Information of Vishay-Revere VT-300:
VT-300 can connect to up to 10 load cells with 350 ohms resistance. It also has 2 serial ports (RS485 & RS232) to connect to other devices. The material of VT-300 body is stainless steel. VT-300 also has IP56. One other feature of this device is that it can save all day weightings up to 10000 weight measurements. It saves info in alibi memory. VT-300 also gives the user the ability to manage weightings with filters like customers, product type and trucks ID.
Applications of Vishay-Revere VT-300:
Variety of heavy or light weighbridges like trailer scales, trunk scales, fixed or mobile and with or without ramps.
Variety of single point scales like retail and general scales, piece counter scales, postal scales, airport scales. Also it has application in home scales, label scales, barcode reader scales and industrial scales.
Wiring of Vishay-Revere VT-300:
Vishay-Revere VT-300 standards: